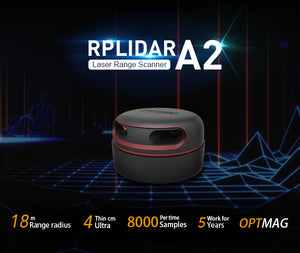 SLAMTEC RPLIDAR A2
Sale price Price HK$2,980.00 Regular price
Description:
The RPLIDAR A2 is the next generation low cost 360 degree 2D laser scanner (LIDAR) solution developed by SLAMTEC. It can take up to 4000 samples of laser ranging per second with high rotation speed. And equipped with SLAMTEC patented OPTMAG technology, it breakouts the life limitation of traditional LIDAR system so as to work stably for a long time.

The RPLIDAR A2 comes with a rotation speed detection and adaptive system. The system will adjust the angular resolution automatically according to the actual rotating speed. And there is no need to provide complicated power system for RPLIDAR.

The system can perform 2D 360-degree scan within a 6-meter range. The generated 2D point cloud data can be used in mapping, localization and object/environment modeling.

The typical scanning frequency of the RPLIDAR A2 is 10hz (600rpm). Under this condition, the resolution will be 0.9°. And the actual scanning frequency can be freely adjusted within the 5-15hz range according to the requirements of users.

The RPLIDAR A2 adopts the low cost laser triangulation measurement system developed by SLAMTEC, which makes the RPLIDAR A2 has excellent performance in all kinds of indoor environment and outdoor environment without direct sunlight exposure.
Features:
Take up to 4000 samples of laser ranging per second with high rotation speed
Perform 2D 360-degree scan within a 6-meter range
Comes with a rotation speed detection and adaptive system
The typical scanning frequency of the RPLIDAR A2 is 10hz (600rpm)
RPLIDAR A2 has excellent performance in all kinds of indoor environment and outdoor environment without direct sunlight exposure
Application Scenarios:
General robot navigation and localization
Environment scanning and 3D re-modeling
Service robot or industrial robot working for long hours
Home service /clean robot navigation and localization
General simultaneous localization and mapping (SLAM)
Smart toy's localization and obstacle avoidance

Pack list
1 x RPLiDAR A2M8
1 x Power Kit
1 x Serial board