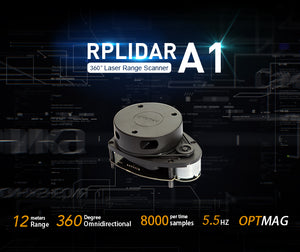 SLAMTEC RPLIDAR A1
Sale price Price HK$980.00 Regular price
Description:
RPLIDAR A1 is a low cost 360 degree 2D laser scanner (LIDAR) solution developed by SLAMTEC.
The system can perform 360 degree scan within 6 meter range. The produced 2D point cloud data can be used in mapping, localization and object/environment modeling.
RPLIDAR A1's scanning frequency reached 5.5 Hz when sampling 360 points each round. And it can be configured up to 10 Hz maximum.
RPLIDAR A1 is basically a laser triangulation measurement system. It can work excellent in all kinds of indoor environment and outdoor environment without sunlight.
Features:
Measures distance data in more than 8000 times/s
360 Degree Omnidirectional Laser Range Scanning
8000 times sample rate, the highest in the current economical LIDAR industry
OPTMAG Original Design, prolong the life-span Configurable Scan Rate from 2-10 Hz
Ideal for Robot Navigation and Localization
Plug and Play
Application Scenarios:
Home service / cleaning robot navigation and localization
General robot navigation and localization
Smart toy's localization and obstacle avoidance
Environment scanning and 3D re-modeling
General simultaneous localization and mapping (SLAM)
Technical Details:
Dimensions: 98.5 mm x 70 mm x 60 mm
Weight: G.W. 170 g
Battery: Excluded
Measurement Performance
Distance Range: 0.15 - 6m,White objects
Angular Range: 0 - 360 Degree
Distance Resolution: <0.5 mm
Angular Resolution: ≤1 Degree
Sample Duration: 0.5 ms
Sample Frequency: 2000 ~ 2010 Hz
Scan Rate: 1 ~ 10 Hz, Typical: 5.5 Hz
Package Includes:
1 X RPLIDAR A1 (PWM motor driver embedded)
1 X USB Adapter
1 X RPLIDAR A1 communication cable