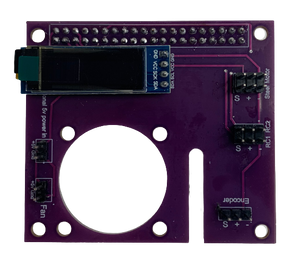 Donkey HAT
Sale price Price HK$100.00 Regular price
The Donkey HAT is a simple PCB designed by Chris Anderson to simplify the process of building your Donkey Car. 
By using Raspberry Pi's built-in hardware PWM and PiGPIO library, it provides 
convenient connectors to connect to servo and ESC. By using Donkey HAT, you no longer have to use 
jumper wires
 and you don't have to worry about connecting the wrong pin. Also, using built-in hardware PWM means that you don't need to use PCA9685 anymore.
The Donkey HAT also comes with a 0.91 inch OLED display, which can display Donkey Car information such as IP address and other vehicle information. It works perfectly with the Donkey Car OLED part.
Features and Specifications:
Product Compatibility

Raspberry Pi 4B. Jetson Nano is not supported.
Connectors and Display

One 0.91 inch OLED display

One 3-pin connector for servo

One 3-pin connector for ESC

One 3-pin connector for encoder

Two 3-pin RC input
Physical Dimensions

Length: 65 mm
Depth: 57 mm
Height: 30 mm